Home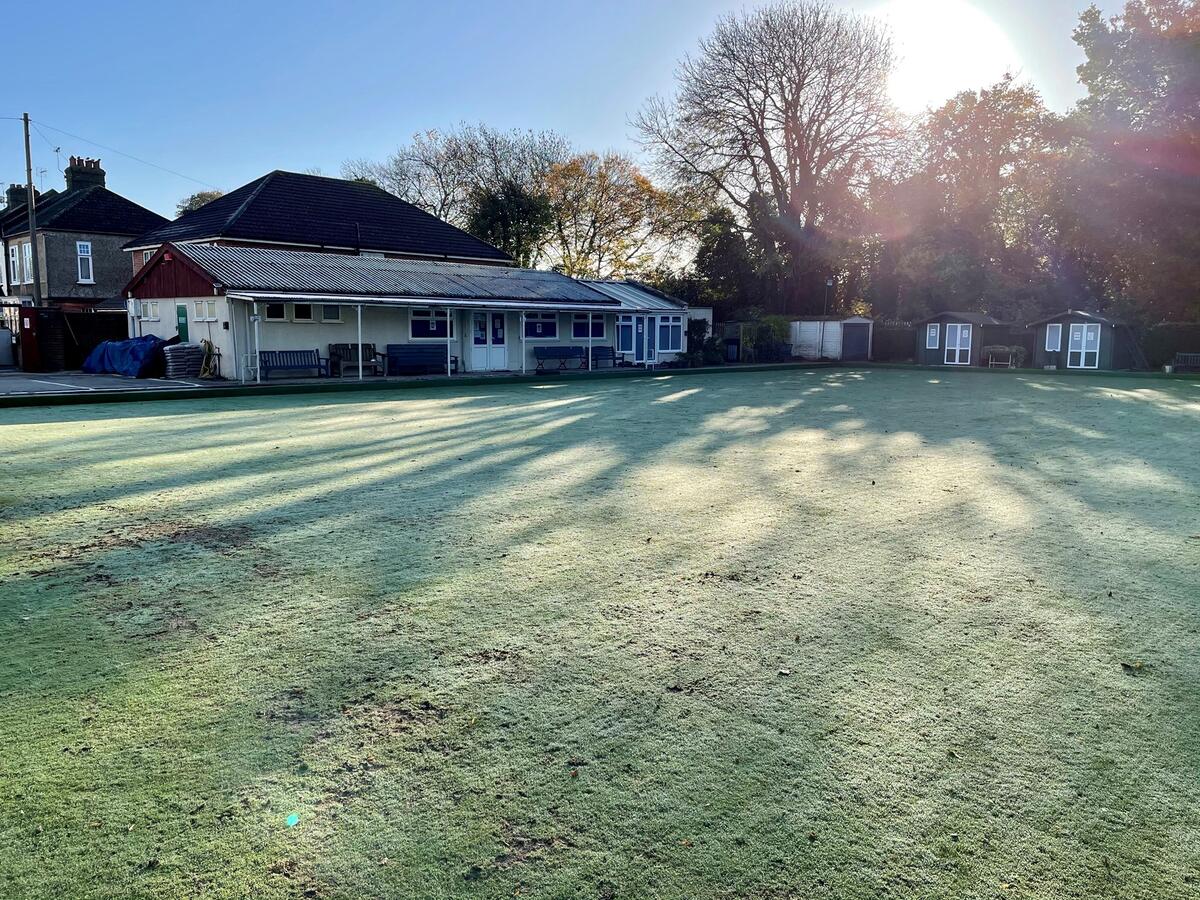 The Green in Winter
Dear Member,
Whilst the bowls season ended in October and hopefully you have been sitting cosily by your firesides, the work around the club has continued thanks to efforts of many dedicated people and volunteers.
The Green Team
Normally, this is a very busy time of the year for the Green Team and volunteers with renovation of the green and encouraging the grass to stimulate a slow strong recovery from the stresses and strains of the season. Over the winter period the team are cutting, aerating, sweeping leaves and repairing edges to ensure the green is ready in April.
In addition, based on analysis of soil samples and advice from our consultant, they have carried out work to improve drainage in the two wettest margins. Over 2500 holes have been hand bored, filled with gravel and topped with soil dressing to improve drainage on the margins of the green. Two weeks of hard graft just on that one job, by Eric and his team of 7 volunteers following Covid-19 rules. Once again, our thanks goes to them for all their efforts.
The Estate Management
Alan has been planning and organising other volunteers to help clear up and clean out the various sheds we have and the accumulation of "stuff". In addition, his team had knocked down an old shed in preparation of a new breeze block version in the new year together with other improvements.
The Executive Committee
Not being able to run a winter programme of entertainment and fundraising has bought with it, loss of income. We have been analysing the account over the past five years and looking at ways in which we can either raise revenue or cut costs at this difficult time. Thanks goes to Les, Caryl and Dave for all their hard work.
I have been focusing on raising money through grants and forging wider links with the community to ensure we attract funding and new members. I will share the figures with you soon, hopefully when we can have a meeting hopefully in the Spring.
Thanks to your support in paying membership fees, donations and voluntary work we have been able to get through this year. The news of vaccine on its way gives us hope that we can look forward to better times and I'm pleased to say that a few of our more senior members have already received the new vaccine and we wish them well.
As we all sit in our individual homes, if Covid -19 has taught us one thing, it is the value of love and friendship from our families and friends and the need for a place to be and share that friendship.
Whilst we have to maintain those links in Tier 4 through What's app, zoom newsletters and the phone, I reflect that Covid-19 might make us weak as individuals, but shows how friendship with others makes us strong and we can look forward to the day that we can all meet again at Eltham Bowling Club.
So, to all our members,
A Happy Christmas and a Safe Healthy 2021
Rob Raine
Hon. Sec.
On behalf of the Executive Committee Eltham Bowling
Welcome to Eltham Bowling Club Website
Eltham Bowling Club is looking for new bowlers and welcomes all, whether you are old or young, male or female, an experienced player or total beginner. We have our own grounds in Halons Road, Eltham, SE9 5BS.
If you are new to the game or want to start playing again, then we have experienced players on hand to offer support and tuition. If you are an experienced player looking for a new club we offer opportunities for competitive play in a number of leagues and Club tournaments.
In addition to the sport as a member you can enjoy the social and recreational activities offered by the Bowls Club, which range from family days, BBQ's, Quizzes and Music Nights which are run throughout the season.
In the closed season from October - April we run Eltham Bowling Club Social Evenings offering cards, darts and other activities or you can just chat have a drink and meet other new members in your community.
Don't take our word for it come and see........
(For the Latest News on events and dates - check the News, Fixture & Social pages!!!)
"

"The best kept secret in the South-East!"

"
"

It's not just for old people - its for Fun People not just old people! - Rob Raine - Hon. Sec.

"